The Manifest Names A3 Creative Solutions As One of The Most Reviewed Web Designers in Vancouver
November 1, 2022
Making a good impression is one of the most important parts of finding success in any business. The digital industry has magnified this fact tenfold as more people make decisions about engaging with a brand in less than five seconds.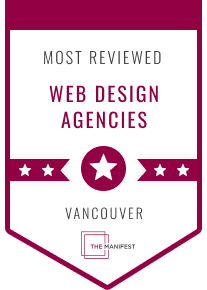 Our team specializes in helping companies maximize the time they have and ensure they have the best chance for conversions through web design. Our process is designed to bring out the best in our clients, and we've been largely successful in that regard.
This is proven by the fact that we've been named one of the most reviewed and recommended web designers in Vancouver by The Manifest.
The Manifest is a B2B resource platform that showcases company projects and the reviews on them to help businesses select their ideal service provider. These efforts work in addition to the industry rankings they create as well as the awards program they organize.
We want to take this opportunity to express our sincere gratitude to all the people whose contributions made this award possible for our team. The initiative shown by our clients in sharing their thoughts on our work is something we won't take for granted.
Our partners are the biggest driving force for our ongoing success in the industry, and we truly appreciate everything they do for us. We've always put a premium on customer service throughout our projects. It's a good feeling to see those efforts validated like this.
Learn more about our team, services, and why we're getting so much positive feedback from our clients by visiting our website. Contact us today, and we'll be more than happy to answer any questions you may have about our industry, process, or the effectiveness of our process. We look forward to talking with you soon.